One of the most common causes for sleeping problems is an abnormally low level of the "happiness hormone" serotonin. Stress is a big influence on this. As the normal functioning of the nervous system is disrupted, serotonin production decreases. The practice of Transcendental Meditation increases the serotonin level spontaneously and reduces the level of stress-related hormones, which affects a large number of areas in life particularly the quality of sleep.

When we activate the body's own healing power, we will notice that our sleep improves spontaneously.

Sleep is an unconscious process where the body will gradually experience deeper stages of rest, as shown on the graph below. During TM, on the other hand, we consciously direct the mind inward, and allow the mind to gravitate to a state of complete inner silence, which, if allowed, the mind will do very quickly. This process will also pull the body in a state of deep relaxation, far deeper than sleep.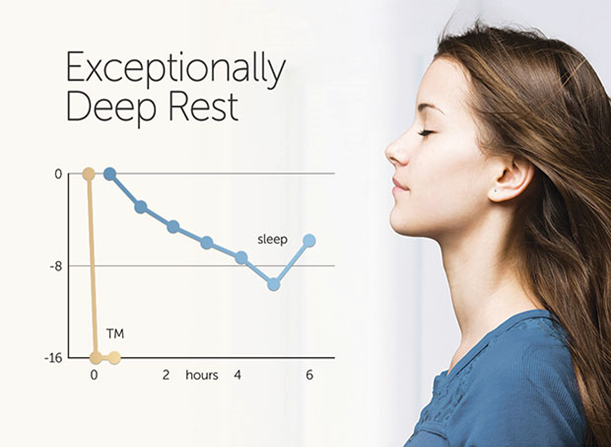 This graph from a Harvard Medical School research study shows this clearly: during TM the body almost immediately comes into a state of rest that is far deeper than even the deepest rest during sleep, which is usually only reached after several hours of sleep (state of rest is measured by reduced oxygen consumption). More than 30 studies around the world have by now confirmed the deep state of rest during TM practice.
Ref. American Psychologist, 1987, 42: 879-881.